Basroil
Page last edited 779 days 15 hours ago
From The World of Seikai
Basroil
Career information

Error creating thumbnail: Unable to save thumbnail to destination

name

Basroil

namesake

hornet

launch

ICY 955

commissioned

Basroil-IICY 955
Basroil-II Relaunched ICY 955

destroyed

ICY 955, Month Roswik, Day 23, 00:00 Hours

badge

General characteristics
Class and type
complement

5 Officers, 15 Enlisted

Armament
crafts carried

1 (2) Calike
Basroil is an Assault ship of the Humankind Empire of Abh's Star Forces. It is a Roil-Class ship. The vessel was under the command of Deca-Commander Abriel Lafiel and was a part of the 1st (Division) flight of the 1058th Assault (Battalion) Squadron of the Latouch partial fleet.
Combat Characteristics & Technology
[
edit
]
Basroil I's History
[
edit
]
The original Basroil was launch in ICY 955 from the Lespor shipyard in Lakfakalle. It was number 18, but it is unclear which this refers to. As usual it was assigned to the exercise and training fleet. After a (3) month shakedown run with its first crew the ship was commissioned. It was sent to the Vobeirunei Naval Base to be part of the 1058th Assault (Battalion) Squadron.
The Basroil saw first battle during a reconnaissance mission to Wimple. The Basroil and its sister ship the Saigroil suffered heavy damage from the United Mankind's new multi warhead mine. Low on fuel the crews decided abandon the Saigroil and to move all men and fuel to the Basroil. The Saigroil went down with its command crew, who were trapped on the bridge. The Basroil made it back to allied forces.
Sometime later the Basroil took part in the defense of the Aptik Gate, a strategic point of Operation Phantom Flame, as part of the Aptic Defense Fleet in the Aptic Campaign.
The Basroil was destroyed in battle, but the crew was able to evacuate. Three of the crew were killed.
Basroil II's History
[
edit
]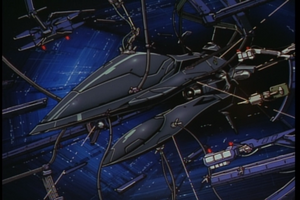 The surviving crew was given a newly built Roil-class ship of the same name at the Vobeirunei Naval Base.
In ICY 956, the Basroil took part in Operation Hunter and was involved in the evacuation of Lobnas II during the Rebellion of Lobnas II.
In late ICY 956, the original crew transferred the Basroil to a new crew, while its crew members moved on to other posts or retired.
Gallery
[
edit
]
References
[
edit
]