Vobeirunei System
Page last edited 1,795 days 7 hours ago
From The World of Seikai
240px
Vobeirunei star system
Location information
nation/state:
domain/territory:

Vobeirunei County

Statistics
population:

millions

population composition:

Abh, various others

local language:

Baronh

Space
Planar Space
Vobeirunei (County)[1], is the Territory of Count(ess) Vobeirunei. It is one of the main military system of the Humankind Empire of Abh.
History
[
edit
]
The star system is located in the Siullzede Kingdom in the central territory of planar space.
In ICY 955, the system was one of the assembling location for troops of Operation Phantom Flame. It was also the point for returning troops from the operation.
Astrography
[
edit
]
The central star of the star system is a yellow dwarf G-type star. The star system has several planets, at least one of which is a habitable planet called Lulukes (ルルヶズ).
Lulukes
[
edit
]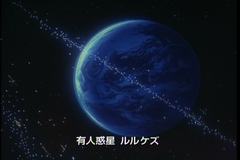 Lulukes has become a recreation site for military personnel. Lulukes is orbited by military and governmental installation and headquaters as well as recreational installations with weightless gardens and sea beaches with a diameter of several tens of WesDagh (1 km).
Economy
[
edit
]
Defence
[
edit
]
Main article: Vobeirunei Naval Base
Military Production
[
edit
]
The Vobeirunei Naval Base shipyard produces Roil-Class assault ships.
References
[
edit
]